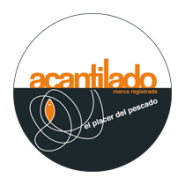 Tuna and Mackerel
In the most sought-after seas
Acantilado guarantees the fishing of the most valuable species in the seas best suited to their growth. It is this selection and deep knowledge of the world's seas that allows us to offer the most exclusive catch.
Our tuna from the Azores is the most representative example: caught in the waters of this archipelago of volcanic origin, they enjoy a very particular climate, which contributes to the exceptional quality of the meat of the tuna processed by Acantilado. The sea temperature is mitigated by the climate that presents oceanic aspects together with Mediterranean characteristics, thanks above all to the Gulf Stream, favoring the rarity of thermal excesses.
Tuna and mackerel on the table
The tuna fillets and Acantilado mackerel are best enjoyed in purity to enhance all their characteristics: perfection of cleanliness, size of the fillet, pulpy meat, typical and uniform color and a strong and delicate flavor together.
We also suggest using these two fish preserves with seasonal vegetables both raw and steamed, or with cannellini beans and onion slices. Versatile and fast, they are excellent ingredients for summer sandwiches, salads and cold dishes with spelled, lentils or couscous.
Acantilado: fish excellences from seas of great traditions