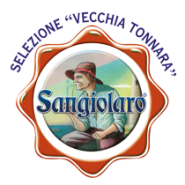 Red Tuna
The finest tuna
The Mediterranean Bluefin Tuna is fished mainly in the months of May and June. Called forward or running tuna because it is caught during its run towards breeding grounds, it is in this period that the bluefin tuna releases its best qualities and is characterized by particularly nutritious and tasty meat.
For our production we select select the best fish: having reached full maturity, they express their  nutritional and sensorial qualities to the maximum.
The Red Tuna on the table
The Sangiolaro Vecchia Tonnara preserves express all their exclusive goodness consumed in purity, but the bluefin tuna can also be proposed with typical recipes of the Mediterranean tradition where its unique and precious taste is highlighted by the fresh ingredients of our lands:
panzanella with tuna , tomatoes and Tropea red onion, tuna salads with beans, croutons with fillets and buzzonaglia pasta.
Bluefin tuna with its intense and defined flavor will enhance your every recipe and make all your culinary proposals exclusive.
Sangiolaro Vecchia Tonnara products are processed 100% in Italy