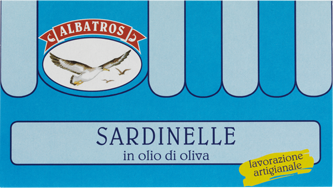 Sardinelle in olive oil (120g)
Small whole sardines, in oil, in a practical format in 120g cans, for an intense, velvety and original flavor of the sea. The fish shows its silver skin rich in organoleptic qualities and with a stronger taste thanks to its perfect ripeness.
PDF

albatros
Sardinelle in olive oil (120g)
Ingredients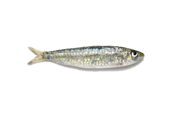 Sardinelles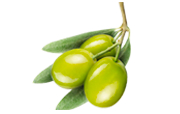 Olive oil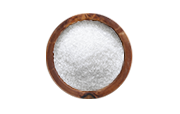 Salt
Albatros
The wide range offered by Albatros is synonymous with in-depth knowledge of the most traditional fish processing techniques which is expressed through a variety of canned and semi-preserved fish determined not only by our gastronomic culture but also by the increasingly careful and precise request from our customers for genuine, versatile and original products.
---
Operazione/progetto co-finanziato/finanziato dal POR FESR Toscana 2014-2020
azione 3.1.1 a3 "Aiuti finalizzati al contrasto dell'emergenza epidemiologica COVID-19" Fondo investimenti Toscana –
aiuti agli investimenti. Potenziamento magazzino e realizzazione nuovo impianto dedicato.

Discover our brands